Take the pain out of your immunoassay development with R&D Systems DuoSet® ELISA Development Kits. With everything you need to develop the perfect sandwich immunoassay in one kit and a range of ancillary reagents to help you get the perfect ELISA.
DuoSet® ELISA Development Kits contain matched antibody pairs and the basic components required to develop an immunoassay. They offer an economical alternative to buying separate antibodies and proteins.
They are now even more cost effective with a 25% list price reduction on >180 DuoSet products* including the following key analytes:
Learn more about DuoSet ELISA Development Systems
CiteAb 2019 ELISA kit company of the year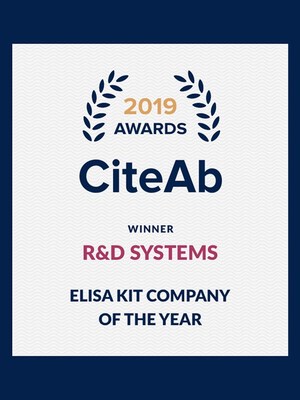 The ELISA kit company of the year award was given for leading the industry in citations for [R&D Systems] DuoSet® and Quantikine® ELISA platforms.
*New 2019 pricing is applied to selected DuoSet 15 plate catalogue formats only within Europe, Middle East & African price lists.